Continent of Europe
Overview of its geography, ancient history, and sites
South America is a continent situated in the Western Hemisphere, mostly in the Southern Hemisphere, with a relatively small portion in the Northern Hemisphere. The continent is also considered a subcontinent of the Americas. It is bordered on the west by the Pacific Ocean and on the north and east by the Atlantic Ocean; North America and the Caribbean Sea lie to the northwest.
South America ranks fourth in area after Asia, Africa, and North America and fifth in population after Asia, Africa, Europe, and North America.
Europe is the world's second-smallest continent by surface area, covering about 2% of the Earth's surface and about 6.8% of its land area. It is the third-most populous continent after Asia and Africa.

It is bordered by the Arctic Ocean and other bodies of water to the north, the Atlantic Ocean to the west, the Mediterranean Sea to the south, and the Black Sea and connected waterways to the southeast.
Geographically, a great curve of mountain ranges that includes the Pyrenees and the Alps roughly divides the cooler northern region from the warmer southern region. In the far north, treeless tundra merges into cool coniferous forests that extend across Scandinavia and into Russia. South of this lies the fertile north European plain. By contrast, the Mediterranean region to the south is hot and almost desert like in places. The Ural and Caucaseus mountains form its eastern border.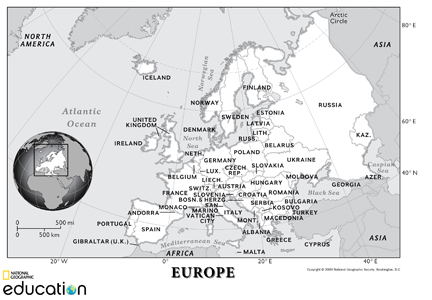 Europe's history describes the history of humans inhabiting the this continent since it was first populated in prehistoric times to present, with the first human settlement between 45,000 and 25,000 BC. It presents every traveler a wealth of archaeological experience. Archaeological sites and attractions range from prehistoric cave paintings, stone circles, and forts along the hills to historic monuments and sometimes entire cities created by the ancient civilizations, as well as medieval castles, monasteries, and market towns. The ancient ruins of these architectural wonders, monuments, road work of ancient times are so well conserved in many parts of this continent. Some of the most acclaimed ancient sites include Stonehenge in United Kingdom, Colosseum in Italy, Parthenon in Greece, and Ephesus in Turkey.
There are more than 400 world heritage sites on the continent. Everyone will enjoy fascinating encounters with the historical past by visiting these ancient archaeology sites. A well conserved cultural legacy, open borders, and easy to get around with efficient infrastructure makes visiting this continent a number one tourist destination.
---